How to build a personal brand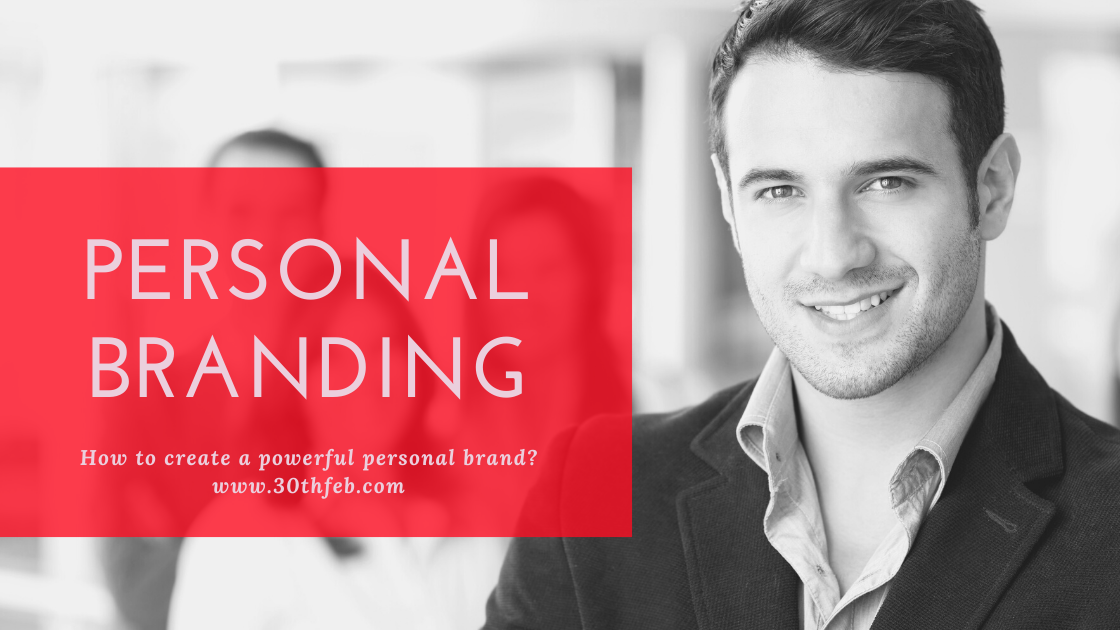 What happens when a two year old, who can barely see from a car window, jumps in excitement after he comes across the bright yellow logo of McDonald's? 
Did he read the sign? 
What do you think must be the reason behind this excitement?
The only answer to this is, the connection that he might have with that place, the look & feel, the persona. Maybe his parents visit the outlet sometimes to fetch him a happy meal! If a two year old could relate that yellow sign with fries and burgers… we know that McDonald's is just doing it right! The connect they feel with Uncle Mc Donald is even special, it is the perfect photo-op and brand recall strategy. 
Building up a brand that is recognizable to each and every segment of the population, no matter what country or age group they belong to, separates you from the ordinary. And the only way to do that is by PERSONAL BRANDING.
As per Wikipedia, Personal Branding was first talked about & introduced in 1937 by Napoleon Hill in his book 'Think and Grow Rich'. The idea surfaced later in the 1981 book Positioning: The Battle for Your Mind, by Al Ries and Jack Trout.
More specifically in "Chapter 23. Positioning yourself and Your Career – You can benefit by using positioning strategy to advance your own career. Key principle which is still talked about is: Don't try to do everything yourself. Find a horse to ride".
Personal Branding emerged in late 80's as a phenomenon to stand out in the crowd. On one hand the corporate adopted it as a leadership requirement but the HR industry looked at it from the social perspective.
Gone are the days when good scores, a list of extra-curricular achievements would help us define and build the career path, the social recruitment finds us as the personality, our thought process, the kind of group activities and participation we do in such groups. 
Currently, we can say that Personal Branding is one of the most sought after Career Marketing tool. 
Understand PERSONAL BRANDING
Traditionally, branding was limited to businesses and the only expected outcome was sales. But today, it preaches to bind the consumers with the brand. That's where personal branding comes into picture! The moment they feel associated with you, trust me you start to earn much more than just a few bucks of money.
A personal brand is nothing but a relationship with the people who have a separate identity from your company. People who work as the brand custodians and become the reason for sign ups with your brand.  
In marketing terms, personal branding is said to be a process of creating and maintaining a reputation by impressing a group of people or individuals who then swear by your brand name every time they make a purchase.
In earlier days Personal Branding was more about societal networking, family & friends, informal groups. With the internet coming into picture, everyone got the opportunity to shine.
We all know the literal meaning of the word 'brand' is to 'burn'. Branding – the term originates from there when businesses began to create a mark for them to stand out as an entity. And Branding is no different – it just means that. 
The Big Players began Branding and the smaller ones followed. It became inevitable to stand out – through name, through logo, through a mascot and what not. 
The current age is of social networks. Widely spread world is connected to each other on the desktops, there is this burning competition and each one of us wants to make a mark, to stand out and to emerge winner. How – the phenomena which is helping individuals stand out in the crowd is popularly known as – Personal Branding. 
Simply put for the freelancers and independent professionals, create a vision, work from the scratch (in case you're new) and do whatever it takes to build up a set of audience that you can proudly own! Personal Branding is nothing but how you decide to establish yourself in the minds of others.
The rise of internet & social media made is more & more important for individuals to create online identities. The adoption of online services by the corporate world has led to the emergence of branding for individuals. 
Not only the profiles are scanned & referred to online but even the job seekers need to keep their profile clear, transparent and updated. 
Why Build a Personal Brand??
If you are not a brand, you are a commodity! Are you?
A personal brand is a better version you- that is more expressive, appealing and approachable. You have to let your image be consumed in people's memories, by making them feel related. That's when they are going to feel a real connection and become your follower!
Today, in this competitive world, there is a strong need to create a personal brand if you plan to thrive and not simply survive in the market. You have to believe in yourself and work hard to find an edge on your competition.
The more you are connected with your customers, the more power and control you have on their purchasing decision. By creating a brand that provides great value to the audience you tend to achieve professional sovereignty in the industry and in the eyes of the people.
Top 3 reasons for creating a personal brand:
Improved Visibility: Limiting yourself to an offline medium can be a hindrance to your success. Digital platforms and social media offer a lot of scope to improvise visibility. This gives the perfect opportunity for you as a brand to reach a wider set of audience, up your game and also for career marketing.
Creating self-awareness: With the proliferation of digital marketing today, embracing personal branding it important. It lets you spread awareness about who you are and what matters to you as an individual.
With the varied connections, professional forums and group discussions you also work on your personal growth that begins when you start working on creating self-awareness.
Growth and advancement: Like business brands no personal brand wants to remain stagnant. When your employee builds a strong identity it improves the value of your business. Overnight advancement always leads to loopholes which we do not identify in the beginning. The best way to progress is by slowly carving a space for yourself and this is where personal branding plays a major role.
Word of mouth is one of the best ways to promote your personal brand. It is obviously more impactful if they talk about you rather than you saying things about yourself.
Your personal brand works as a medium to connect your values with that of the audiences. It helps them know what exactly you have to offer and what they can expect from you in the long run. It builds a connection with them and they start looking forward to you.
Do's and Don'ts of building a personal brand
Taking control of your presence in the outside world is really important. Especially when it comes to online platforms that can prove to be a reason for your downfall if not handled the right way! After all, your online image is equally important as your offline one.
Here are some tips that can actually help your brand build a persona of its own and shine individually:
Do's for creating a powerful personal brand
Stay intact with your core values

– it tells people about your intentions

Be authentic in your approach

– faking for a good image will only give you a temporary success

Let your ideas be real and thoughtful

– don't write anything just to be liked by a certain set of audience. Become a thought leader.

Share value

– Share your enthusiasm with people and engage with the like minds. Being involved and informed will make your content valuable.

Keep networking

– The best way to keep in touch is to communicate every day. They might ignore but will never forget.
Don'ts for creating a powerful personal brand
Focusing only on what you offer

– Your industry expertise is anyway getting communicated by your products. Tell them about you as an individual and show them your human side.

Sharing anything and everything

– Oversharing may ruin your reputation. At some point, people will start ignoring you if you tell them what you eat every day or what time you take a bath

.
Inconsistency –

Being inconsistent is a sign that there is lack of seriousness. Make sure you schedule things in advance and fulfil your commitments.

Indulging in unhealthy conversations

–

People will get jealous. You have to find out smart ways to not let their negative comments bother you. Deal with them politely or the best way to handle it is just ignore it.

Focus on your thing and handle the others assertively.

Telling them what to do

– If you try to become their teacher by schooling them on certain principles, this is not going to work. Nobody wants to be felt like this. There should be a two way communication. Share your opinions, don't preach.
Let us explore some of the most amazing Personal Brands we all love,
Building a personal brand is all about hard work, sincerity and the right approach. You cannot do it overnight. Converting this hard work into smart work requires experience and a lot of patience. An overnight stardom does not take you through a long way.
Communicating your vision and passion to the audience in the most genuine way is what is loved by people today.
Here are some commendable examples of people who have built themselves from the scratch through dedication and long term focus:
Oprah Winfrey

– A true inspiration for all, she is the queen when it comes to personal branding. She has successfully encouraged thousands of people to realize their potential and live a life they had dreamt of. According to Forbes, she has a net worth of $2.5 billion which she has earned all by herself.

Sadhguru –

He is one of India's 50 top most influential people. His work has touched and transformed the lives of millions of people in the world. His transformational programmes have actually made a lot of people realise the importance of traditional science and culture and have been quite successful in making it relevant to the modern era.

Richard Branson

– This man today controls more than 400 companies in various fields.

He is undoubtedly one of the most promising persons we have ever seen. With his unbiased approach, he has always stayed true to his core values and believed in himself. All the work done so far by him is based out of his passion and commitment. He is an investor, author as well as a philanthropist.
Few industry leaders and top CEOs who are loved on their LinkedIn spaces include the likes of Manu Jain, CEO Xiaomi India, Abhijit Bhaduri, an Indian author, columnist and management consultant, Dr.Aniruddha Malpani a doctor and an angel investors are some of the leading examples.
Watch a video on Personal Brand Basics here. 
Why "Distribution Channel" Matters most for a personal brand? How to pick the most appropriate one
If you really want to make a change, the first thing you need to do is, make yourself heard. It is very important to choose the right platform for communicating your thoughts and actions. But, this can be challenging.
Having a wider reach is great but that does not mean that you need to be active on every social media platform. Do a detailed analysis and prioritize.
These platforms work as a distribution channel for your content and if chosen wisely can take your brand to another level.
But, the question here is, how do we know if Facebook is better than LinkedIn or will Instagram give us better results than our daily tweets? Every platform has its own advantage and different set of audiences. 
So, how do we choose?
Know your Personal Branding Goal
First and foremost know your personal branding goal. You can pick personal branding for career marketing, pro-bono consulting or speaking gigs and even thought leadership for influential marketing. 
Before we pick the distribution channel it is significant to determine the personal branding goal.  We have bifurcated Personal Branding into three segments as per the goals. 
Identify your target audience
You must clearly know what type of audience you want to reach out to. Narrow down their specifics. Getting to know them will let you know what kind of platforms they are indulging into the most and spending their time.
Choosing the type of content to be shared
This is the most important step while choosing a communication channel. If you are more likely to use visual based content, then you should study which platforms have the maximum engagement. Or you can also work the other way round. Study the type of content your audience prefers and start creating and sharing it on the most preferred platforms.
Study your competitors
Studying their moves actually solves half of your problems. Since they have the same type of target audience, you get a rough idea on which communication channel will work for you or is it really time to switch from your preexisting channel to some other one?
A tree does not grow in one day. Similarly, creating a personal brand takes time and effort. But if given the right direction, approach and distribution channels, it can actually inspire thousands of people out there!
Here is a quick DIY 15 Points Listicle to help you with your Personal Brand. Take this up, do your homework and polish your spaces. Once done match it with the Personal Brand Checklist here. Once you are done and still need help reach us and we are happy to help. 
Know your core and identify your niche
If you wish that people should be able to find the 'real you' before anyone with the similar name, core or niche do a little task. Know your core and identify the niche for which you would like to be the top result when search-monsters work on their algorithms.
Create the expertise basis your own Ikigai and SWOT analysis
Personal brand is not all professional. It helps people discover the real you and discover your strengths and interests which helps them create a bond, an appealing space that encourage collaboration with you.


It is simple. The internet has already found all of us but creating the basics right ensures we are always found in the right context.
Pick 3 keywords for your personal brand.
To simplify your personal branding process, list down the strengths and opportunities with yourself as a brand and pick the Top 3 which should define you. Largely how you would like people to know you, remember you and talk about you even when you are away.
Draft a powerful headline for your profile
The above steps will lead you to a powerful headline, an impressive bio for yourself which is inclusive of the right keywords for the search engines.
Identify the audience and appropriate space for your personal brand
Understand your audience.  Find out where they hangout, interact and look for solutions to their problems. Create your space accordingly and connect through content that is appropriate for each of the identified space.
Grab the most appropriate DOMAIN name for your website and social spaces
Whether or not you need a custom website right now. You need to secure your appropriate domain name and if you are not able to get the right domain, pick one that is most relevant to your personal branding.
Expand the culture of your personal brand
A little brand book. A manifesto or a defined brand causes can help you expand the culture of the personal brand.
Be Strategic about your Content
A narrow strategic approach always leads to conversions as well as highly verified leads. When you are clear in your personal brand strategy, right from blogs to media features and even your opinions or viewpoints on your spaces.
Personalize and show excitement through Imagery
Visuals work better than just content. Neurologically it is 22 percent more likely that people will remember your story as compared to fact. Make your journey exciting, use visuals, have a brand imagery – logo and even content templates.
Optimize the content plan for your personal brand
Start building your content plan as well as the tribe. You can create the tribe through email list building, consistent content plan and even through active participation across forums.
 Ensure the following remain in sync across platforms. 
who you are,

your values,

what excites you,

the good that others say about you,

your expertise,

your vision, and

your target audience's expectations.
Report yourself- Publish- Repeat
Make sure your content is regular and easy to absorb. Publish in all forms across your spaces. Assess your social media reports, see the traffic as well as engagement. Keep your SEO tactic in place. Publish as per the audience, space and followership. Repeat the process.
Be Experimental
Unlike business brands, do not shy away from trying new things. Be experimental with you content, templates and even engagement tactics. Keep trying new things. If you are a blogger, try microblog, shoot a video, plan a podcast etc.
Be ready for Give Away
When you are creating a personal brand, you should be ready to share. Create value and help people grow. Offer things for Free and allow them to connect when they get benefit out of the free assets you share.
Be Yourself
Most important of you for personal branding is to be your natural self. Be there yourself. Ensure you are approachable and appealing as you are and not coming across as someone difficult to approach.
We hope the blog answered the how to build a personal brand here. For quick videos on Personal Branding and regular Brand Growth Tips you can also subscribe to our YouTube channel here.