Personal Branding Beyond Influencer Marketing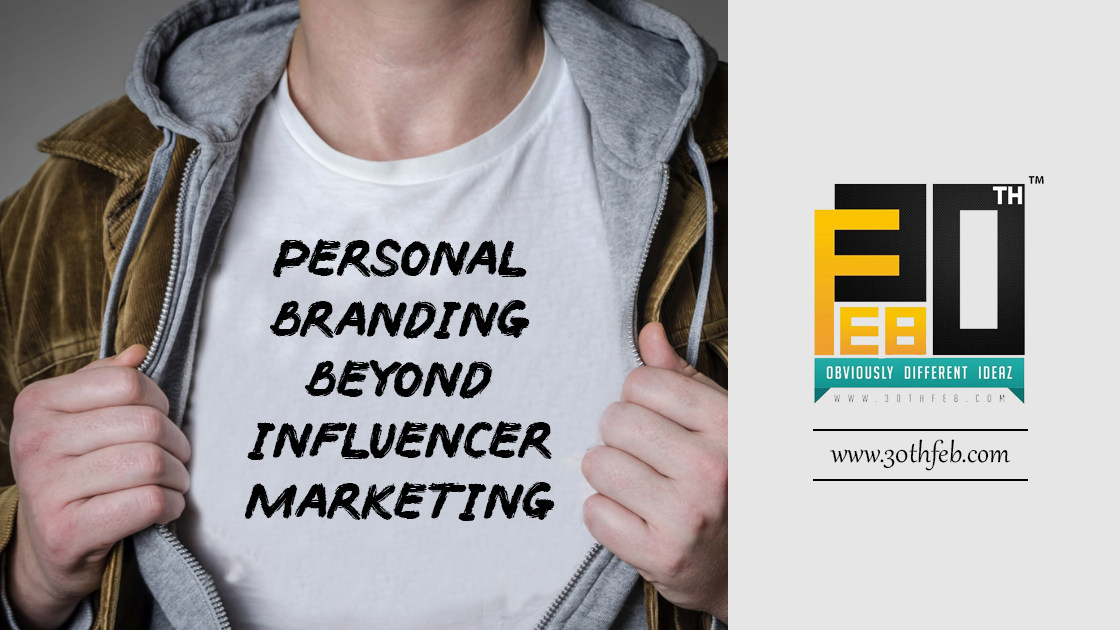 Wikipedia defines Personal Branding as the conscious and intentional effort to create and influence public perception of an individual.
It is a process of positioning them as an authority in their industry, elevating their credibility, and differentiating themselves from the competition. The goal of Personal Branding is to advance an individual's career, increase their circle of influence, and have a more considerable impact.
Many leading entrepreneurs have risen to be even bigger personal brands than their business brands, for example, Elon Musk, people know 'Tesla' and 'SpaceEx' because of him. He carries an aura around his activities, his words, his presence and his work ~ that's the kind of difference personal branding can bring about.
Whereas, Influencer Marketing is a form of social media marketing involving endorsements and product placement from influencers, people and organizations who have a purported expert level of knowledge or social influence in their field. Influencer marketing is also called influence marketing.
It is a relationship between a brand and an influencer. This relationship is to achieve specific targets and goals, where the Influencer promotes the brand's products or services through various social media platforms such as Facebook, Instagram, YouTube etc.
Several brands use influencer marketing to promote their products and services and are thriving. And act as a guide for doing influencer marketing in the right way, you won't find strategic success by sending free things out to everyone who asks, but an influencer campaign takes deliberate planning and targeting.
One of them is Daniel Wellington, the most recognized name in the business of watches. They focus on micro-influencer rather than big celebrities. They offered little more than a free watch in exchange for a post on their Instagram. Each time DW sends a watch to an influencer, they are asked to communicate a discount code to their followers. This helps in tracking the initial results of the influencer campaign and see the visibility.
Back home if we look at the recently trolled campaigns of White Hat Jr. for too much of digital advertisements, the brand is fast gaining popularity due to the aggressive digital campaigns and also the array of celebrity mom and dad influencers starting from Madhuri Dixit, cricketers Shikhar Dhawan and Virender Sehwag to the actor turned philanthropist Sonu Sood.
Influence marketing is fast adopted as the way out for campaign marketing.
To help you understand the difference between the two and how personal branding offers a vast scope as compared to influencer marketing and how personal branding comes with wider horizons and opportunities.
Difference between Personal Branding and Influencer Marketing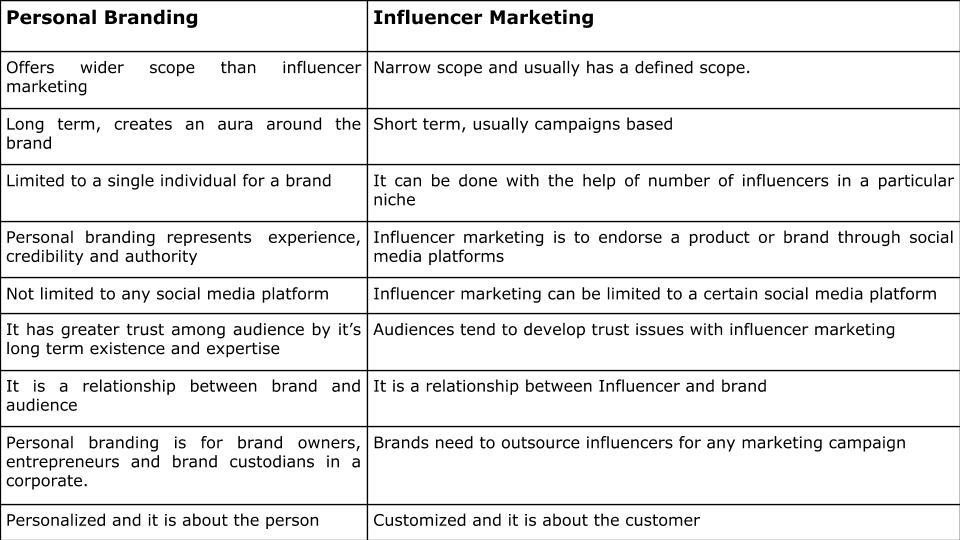 How can we measure the Impact of Personal Branding vis-a-vis Influencer Marketing?
Anything that you do for the intent of marketing and outreach, the impact should be measured. This helps in future planning, forecasting and assessing the consumer insight too. Following are the five metrics that will help you measure the brand metrics.
1. Number of Subscribers
Apart from social media following, there is one more way to measure the dedication of your audience towards your brand. And that's through your subscriber list of your blog, email, newsletter, promotional emails etc.
People who subscribe to your list are the one who believe in you as a brand, and they find value addition in their life through the content you create. They are the ones who will take real action to connect and engage with you.
2. Reach and Engagement
Having a strong presence on social media sites is fast becoming essential for your brand. For measuring your brand, you need to track your reach on your social media accounts and other digital platforms.
You can track the number of likes, retweets, comments and more shares you get on the content that you create. This defines your reach and engagement.
3. Website Traffic
You can drive your social media traffic to your website. A good social media marketer will also set your web space as the goal that you must convert through your social media. Those who visit your website are the one who take interest in exploring more about your offerings, services and how they can associate with you.
It would be best if you track your website traffic. Suppose your visitors are spending 10-20 minutes scrolling down your products page, this indicates they are interested in what products you are offering. This way you can also analyze the pages that are performing well, those that need improvisations and even the customer behaviors on your website.
4. Number of Mentions
To measure the impact of your brand, you can track your mentions. And get the clear picture of how many people are mentioning your name on social media, and what they talk about you. Don't be afraid to reply to their DM's and mentions, and you may make new connections and discover new opportunities.
Mentions are powerful in establishing your personal brand as that is in a similar context. Whereas for influencer marketers the mentions could be across various contexts for many brands.
5. Return on Investments
Whether you own a business or work for another brand, your ultimate goal is to establish yourself as a professional. Influence marketers wish to drive sales and earn profits for the brand they associate with, personal brands wish to establish authority, credibility and expertise. Goals of a personal brand could be PR, Pro-bono projects, speaking engagements and leadership gigs turn into paid partnerships.
We have learned so far that personal branding and influencer marketing are two different brand marketing strategies. One is about creating an influential persona in your defined niche and the other is about influencing sales by becoming an endorser for the same.
Personal Branding is service or expertise oriented. Influencer Marketing is effective for products as well.
There are examples in history where a personal brand saves a company from falling. At the same time, brands need to be very careful in picking their influencers. You need to make sure your Influencer has a brand imagery that goes with your brand values and will not have any repercussions later.
Personal Branding is long term work in progress. It is about growing with your passion and value system.
Thinking about what best fits your brand?
Download the personal brand checklist here and check yourself.
Looking for influencers to endorse your brand? Contact us by filling up this form.