My Dream My Brand Contest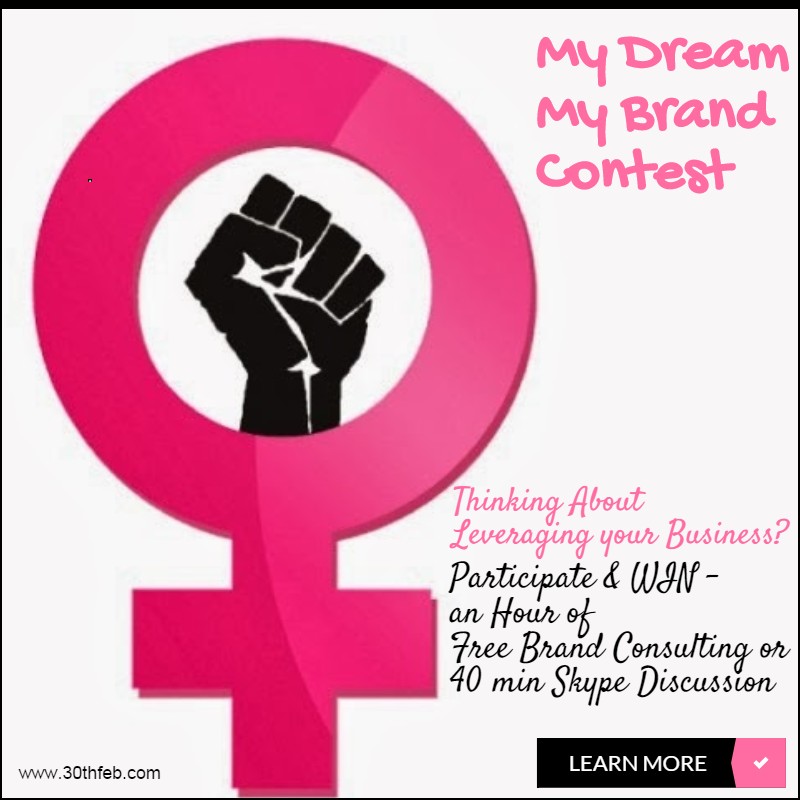 March 8th is International Women's Day!
Our team at 30TH FEB has decided to celebrate the Spirit of Women through My Dream My Brand Contest for Women Entrepreneurs.  The 2 winners will get An Hour Long Free Brand Consulting and rest 3 can have 40 minute Skype Discussion on the Branding perspective for their Business.
We have a zest to empower the women entrepreneurs and to lift the weight on their wings and to give them a little help in terms of Branding their business idea. Many a times, women are doing their bit, they are experts in their business, the offering are perfect but they only lack the marketing & branding inspiration.
30TH FEB is offering this contest – to reach out to such women so that they get the right Brand direction and can really take their businesses forward in the coming financial year.
How to Participate?
You need to share your business intent, the idea which you identified as an offering, the branding confusion you face, the marketing queries or difficulties you are facing it making your idea appealing to your consumer, your target segment. Also suggest, where you want to take it  and we will help you in further elaborating the same.
The entries are invited between March 3rd-March 8th via email. To contest, you can mailto: ask@30thfeb.com and selected entries will be informed by March 10th.
Coffee Chat for Brand Consulting & Skype Discussions will be scheduled between March 11- March 14, 2015.
Open your mailbox and start writing. We look forward to meet you.
More Power to Women Entrepreneurs.
P.S: To all the men and others who are not planning to take a plunge of launching their own thing. Spread the word and Help your friends by sharing about this contest. If you know of someone, who is doing even if a tiny bit, write on their behalf and we would be Happy to Help!