65 Tips To Create Powerful Brand Content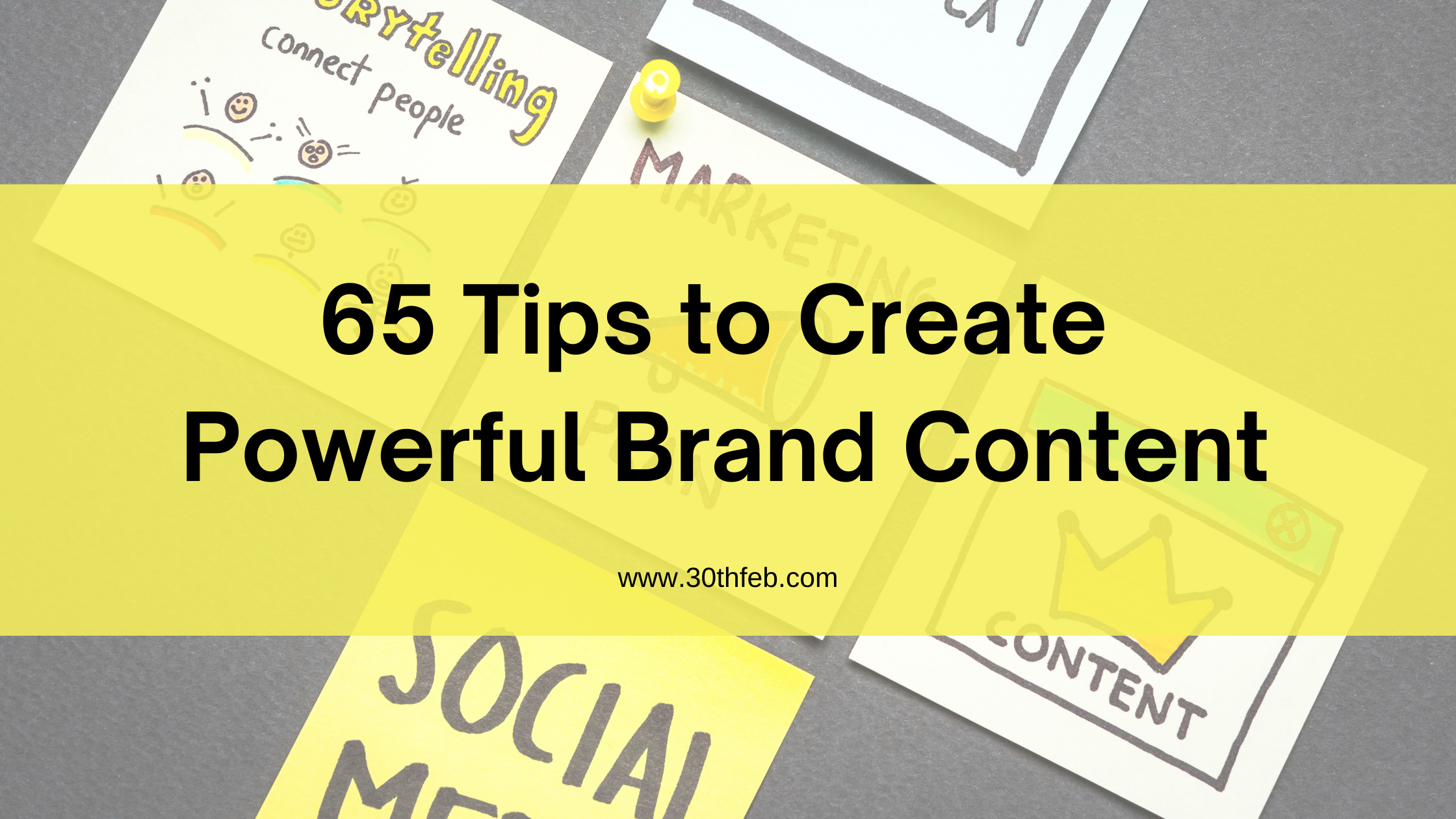 Content is the king. You know this already, which is why you need to focus on providing great content to represent your company's reputation. In this digital era, people are more concerned about getting some tips through blogs or in video form before making any buying decision.
There are certain brands like Evernote, Rolex and Casper that are providing great content on social media to engage customers and help themselves stand apart from competitors.
Considering the importance of content for your brand, we have developed 65 tips to create powerful brand content, let's have a look at them,
1. Have a content plan: Before creating a content, you should have a content plan with you like, what you will do and when. It is where you develop topics to address your themes, choose specific content goals, and then put it in your editorial calendar.
2. Keep your reader in mind: When you keep your reader in mind while writing your content, you need to think like them, what is the value you are trying to create through your content in your reader's life.
3. Keep it Simple: As people trust simplicity and have a natural bias for simplicity, you should try not to complicate things and provide straightforward content.
4. Edit and Edit Again: Be ruthless in content editing. The more you do it, the better is your brand content. Ensure it is a feast for the reader. Minor content mistakes become big turn offs at times so make sure you edit content.
5. Be specific: Don't talk about out of context, be specific to your readers and try to connect the dots in your reader's mind from start to end. Don't Intrude. Don't mention anything too controversial. The point is to engage and not offend.
6. Make it Engaging: You can start with asking questions, and thoroughly help your readers answer those questions or leave a question for your reader to answer, which helps in making your content engaging.
7. Use strong headlines: Headlines that have the right punch grab the eyeballs. And most of the readers end up reading content when the headline shouts "read me". So be sarcastic, use puns, play with words – in short make the headlines interesting. You can use heading generator tools or write a heading to create sarcasm in your reader's mind. Because most of the readers only read content when the headline forces them.
8. Be original: As original content goes a long way with Google and your visitors, copying content will result in a punishment from Google, which is why you should focus on creating original content.
9. Add images and video for better comprehension: We humans have tended towards learning from visual content since childhood so whatever you are writing about, add pictures or video because no one wants to look at paragraphs of text unless you are writing a book.
10. Update your content Regularly: Creating content is like a commitment. Not only humans but even search engines don't favour sites that aren't updated regularly. So that if you have a blog or content site, you need to update it regularly with great content ideas.
11. Add a narrative, Start with a story: People get hooked to stories and they tend to relate them to their own lives. So any piece of information, brand building, selling, promoting should have a narrative, should tell a story, should connect to the audience. Storytelling is the best way to transfer information to someone's mind and make it stick.
12. Keep a note of Brand Basics: Don't forget the mission and vision of your brand. Always remember your brand value while writing for something.
13. Create a connection through Content Include quotes and memes: Memes make a brand or a name more popular than the actual content – as audiences love them and pour their hearts to relatable, quirky content. So use memes, use quotes, add quirk – these are ways to connect to your audiences instantly.
14. Do a Good keyword search: With the help of keyword search tools, you need to search for keywords, your audience is searching on the web.
15. Avoid passive voice: Passive voice tends to make your writing wordier and harder to follow as it puts the subject at the end of the issue, which tends to obscure who is acting in your sentence. Hence it would be best if you avoided it.
16. Mind repetition or redundancy: When you write something, try not to repeat similar sentences again and again as it sounds boring to your readers. You can always have a summary at the end as a recap but repetition must be avoided.
17. Research Thoroughly: You should focus on the research part for getting the proper outline and add validity to your content.
18. Mention a source (Share Credits): If you are using someone's pictures and quotes, don't forget to give credit to your sources to avoid copyright infringement.
19. Always get to the point: Keep your Content short and crisp and learn to write to the end.
20. Answer the questions: You need to find out what the answers your audience is searching for, and also find out the problems your competitors are not answering.
21. Optimize: For content optimization, you need to build relevant links from other high-quality websites and make sure your website is accessible to bots and humans. It will help your Content rank on the better position in google search results.
22. Use tools to Edit and Improvise: You can use editing tools like Grammarly, Write or Die, Boom Essays Editing to edit your website content and make it free from grammatical errors.
23. Choose good ideas and make them great: Unfortunately, when you are out of content, you can take inspiration from other's work but make sure you are not copying them, refer to them and go with your strategies. By this, you will be able to turn good ideas into great ones.
24. Run contests around Content: You can run games and contests like giveaways, tag your friends, use Coupon Code which will draw more audience and your content will end up getting more likes, shares, comments, and followers.
25. Use better title tags and meta descriptions: Title tags and meta tags help search engines understand the content on a page as these are description bits of HTML code in the header of the webpage. And it has capabilities of attracting more users to click to your website from the google search results if used properly. So pay attention to these.
26. Add links to your advantage: When there is a need for short content, but you want to explain much, in such case you can attach a destination link on that content.
27. Goal specific content is powerful: While writing content, ask yourself what's the plan you want to achieve through it, you want link clicks, large following or sales.
28. Include stats and data: For giving clear cut information to your reader, you can include stats and data in your content but make sure you are mentioning the source of those stats and data.
29. Mind the brand elements – fonts – type, size and form: Always write by minding your brand elements (the core of your identity), your every fresh write up should be in the same font size, style and structure as your previous one.
30. Add examples: Adding examples to your content would help you make statements clearer, and decrease the chances that the fact or idea may be erroneously applied to real-life situations.
31. Write for a single person: You need to make your reader realize that you're writing specifically for him, just like you are personally talking to him/her.
32. Reduce Jargons: Always try to reduce jargons as these are technical terms which can cause misunderstandings or alienation, even if your readers are specialists.
33. Give good references: Try to include studies and contribution of other writers in your work as a reference.
34. Don't hesitate to Go Live: Sometimes, you need to go for a live session where you get a chance to interact with your audience directly.
35. Edit and Edit Again: Focus much on the editing part till your content is free from grammatical errors and repetitions. You can do this manually or use grammar and spelling checker tools.
36. Tag the stakeholders: If you are writing on behalf of the company, you need to tag the stakeholders, that adds to the story power. You can tag or mention a client conversation, a team moment and tag them as well.
37. Invite people to Contribute: You can ask your readers to share their experiences and their opinions about your blog in the comment section. Reviews and comments will help you get the audiences' point of view.
38. Run Campaigns around it: You can run a campaign with the help of influencers in your particular niche and can partner with other brands. Remember influencers are social media superstars, people look up to their choices and suggestions.
39. Do Guest Blogging: You can include a "write for us" page on your blog, search for influential bloggers in your niche using tools like Buzzsumo, Topsy then pitch them to write for you.
40. Don't give an explanation when you don't have to: Less is good, not every time but sometimes we don't need to explain much, only short descriptions are all that is required.
41. Try to put emphatic words at the end: Always give hope to your readers and wish them good luck or thank them for reading.
42. Share your opinion: You can share your own opinion, and it will show a direct connection between you and your writing.
43. Use Anecdotes: The motive of using anecdotes is to give a personal perspective, and to entertain your readers by making them laugh.
44. Don't Cheat: If you are creating content on any product or service reviews, then don't cheat your audience. Be honest with the pros and mention the cons (if any) for the same.
45. Don't hide behind words: You need not use fancy words to hide behind words, instead be in front of your readers with the value-driven content.
46. Prepare an ideal Manuscript: For preparing a perfect manuscript, you need to prepare a case report, deal with a rejected manuscript, deal with reviews and at last conclude.
47. Refurbish your old Content: Refurbish your old discarded content to give it a new life, because if you are not driving traffic to your old blog posts, you are slashing your ROI dramatically.
48. Include Social Proofing: You can include social proofing as they are like testimonials and real-life experiences of your clients.
49. Search for questions other brands are not answering: You need to search for the questions that other brands are not answering, but the audience is regularly searching for it. That way you carve a space of your own and take the lead in google search results as well.
50. Try to fill the gap in the market: You can fill the gap in the market by evaluating competitors' offerings and differentiating yourself, and ask your audience what they are searching for by running polls, Q/A sessions or by circulating feedback forms.
51. Save your content from copyright: Make sure your content, images and videos are not copied, rather you can search for websites giving copyright-free images and videos.
52. Organize your Content: You can organize your content manually or can use tools like Asana, Hubspot, Kapost, CoSchedule and Google Calendar.
53. Write about people connected to your brand: You can write about your team members and customers to give your brand a more authentic look.
54. Avoid Cliches: You need to avoid cliches if you want your writing to be fresh and interesting and try to rephrase your text to make it more concise and original.
55. Avoid wordiness: You need to avoid wordiness by avoiding the use of unnecessary preposition, verbosity and extra punctuations. Make writing effective by using active voice, contractions and cutting down long sentences into two parts.
56. Always be positive: Use a positive tone in your writing to build a positive relationship between you and the readers, because they are fed up with negative things and searching for some positivity that inspires them.
57. Don't acknowledge when you should describe: Don't give your audience incomplete answers and if there is a need for the further description you should do it for them.
58. Don't make fake promises with the audience: Only make promises that you can keep, don't make fake promises intentionally as it will hurt your audience and result in harm for the brand.
59. Always summarise or conclude: At last, you need to justify all the opinions you have mentioned in your blog, in the form of conclusion.
60. Run it through Headline Analyzer: With the help of headline analyzer tools, you will learn how to incorporate power words and positive word counts. It also offers suggestions for boosting SEO in your headlines so that you can use it too.
61. Humanize your content: Create content to connect with the audience. Make your content appealing, consistent and long-lasting. Humanizing is powerful; it builds trust faster.
62. Make it actionable: Do not tell what to do, explain how to do and present the same with a personal touch. Allow the audience to resonate and respond.
63. Do exclusive features: Try to do exclusive features by giving something extra to your audience. It can be an ebook, annual subscriptions, an entire story about a cause, etc.
64. Use Infographics: Infographics are a useful content tool to express, use imagery to highlight, explain, or enhance text-based information. Infographics allow content precision, visualization to convey information to your reader.
65. Create the right hooks in your Content: Try to create the right hook or hooks in your content. The opening, the headline, the story should capture your audience and their attention till the last sentence.
Now, you know pretty much everything that you need to plan and execute a killer content strategy for your brand. Always keep in mind your readers are important to you, especially if they become your customers. That is why creating powerful brand content is the need of the hour.
Your content provides you with an opportunity to have some fun with your brand, promote ideas and share your opinion for your products or services. It's not enough to post some screwball articles, however, as every content, whether it is in written form or a micro piece as picture, infographic or video your content should have clearly defined goals and be unforgettable to the reader.
Looking for content ideas or a rather clinical content plan? Email Now.