A Guide to Local SEO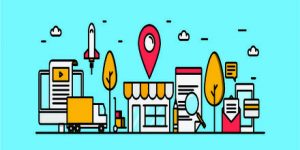 Are you small businessmen struggling to outrank your competitors?
Do you want to promote your products and services locally to users nearby?
Ready to capture the local markets through SEO in first phase of launch?
If yes then this is the right read for you! Let us spend how 2-3 minutes to understand how brands are leveraging themselves in local markets through SEO.
In this blog post I am going to share all the secret strategies that we have used to rank different websites in localities to specific cities of India and USA on the top of the Google for targetedlocal searches!
Some of the following strategies helped us outrank the competitors on google listings and local searches for varied industry segments, from moving companies to holistic healers.
Let us explore and understand the Local SEO (and feel free to share your ideas in comments below)
What is local SEO?
Local SEO is a part of SEO which only deals in ranking a website locally or providing it rank citations in a specified geographical area.
It is mainly done for local businesses and is very helpful for small business owners as well as businesses with small teams especially those who believe in starting small and growing with perfection and ease.
The keywords for local SEO are geographically bound with a prefix or suffix to make it an easy found in the local searches. For example- Best Movers in New Delhi, Holistic Healing in Navi Mumbai, Financial Planners in Delhi NCR etc.
When anybody searches for these kind of keyword for a particular niche it suggests that they are very much clear and interested in hiring local only.
Basics of Local SEO
Google Business Optimization
The basic steps of Google Business Optimization include:
First of all we need to verify our local business listing on google.
Add appropriate and same address used in website a small change can affect ranking. Any change in address should be avoided.
Google will send you a pin to verify your business within7-10 days and then once you are verified your listing would appear in google business. Make sure this is done without a miss.
To optimize your local listing in best manner possible – it is always recommended to bring social engagement and google reviews locally.
Ask for reviews as reviews gives signal to google that this listing is doing well locally in terms of his service so google would reward you by giving you ranking.
Internal Linking for Local SEO
Any user friendly website will provide lot of internal links on the site to enable the users get maximum out of their website visit. Most of the informative websites and brands that believe in constant updates and stay in sync with the industry and consumer trends,use local keywords and link them to the other relevant reads on their space – this not only facilitates the visitor with complete information but also facilitates Local SEO.
Internal Linking also helps to distribute page authority among multiplepages of a website, so it is an important part to maintain your website page authority among all pages.
Use Local SEO Keywords in title tags & description.
We believe that SEO team needs to understand content marketing and this is the basic requirement to fetch timely and defined results. Smart SEO people always optimize the website with local keywords in title tags and meta descriptions as it signals to google and drives the connect. Every time we are writing content for our websites we need to come up with geo-targeted highly search keywords. This helps in outranking the Local SEO.
Add Location Pages
Add more relevant location pages, share customer success stories on those pages with targeted highly searched local keywords.
Interlink them properly. You can also embed Google map in the pages, it usually fetches a very positive response.
Think out of box create relevant local keyword focused content telling about your services as Google outrank the websites basis the visitor performance and engagement on site.
Build the local authority for your business by promoting informative content on your website that is more relevant locally and adds to the ease of local users, so that if anybody wants any information they should go to your website. This also works on brand credibility and intent – as you are going an extra mile to provide the best local support possible.
Mobile Friendly Site
Generally, our local searches are mainly from mobile only, so we need to make sure our website is optimized properly for mobile users also and it should be mobile friendly and easy to navigate. In this age of APPs, if a website is not user friendly to mobile and they feel uncomfortable in navigating through the site and this results in instant quit thereby an increased bounce rate.
Local Listing and Directory Submission for Local SEO results
Wherever you find a local directory or listing website, make sure you assess, examine the credibility of that directory before adding a website to that listing or directory.
Only a good directory with result in getting justified backlinks from directory and local listing, this empowers the site and is one of the most important popular strategy for local seo.
A correct local listing will bring you one step closer to get your site ranks in any local markets.
NAP Consistency
NAP consistency this is the thing that people mainly don't do correctly. It is one of the biggest factor for missing out on local rankings infact it is good for overall analytics position. NAP stands for name address phone number.
The name address and phone number should be used in same sequence as used in google business and in the website. Any small change and even the change in sequence also reflects negative affect in rankings.
It is thereby recommended to avoid any change in sequence and in address use the same address used in google business while doing local listings and directory submissions.
Backlinks from Local sites.
Bribe is derogatory but works amazingly well when bartered in case of worthy backlinks in lieu of trusted and original content. Getting backlinks from high authority same niche local websites will boost your rankings fast and will also stay longer. People try to be a guest blogger on high authority same niche sites to get backlinks.On local keywords too this strategy works for local SEO and rankings through right backlinks.
We have applied the above Local SEO techniques and the results were very good for the brands which are trying to sell services primarily. If you are looking for any Local SEO support or would seek a website report, please feel free to reach us and we are happy to help.