Why content marketing is important for building a brand?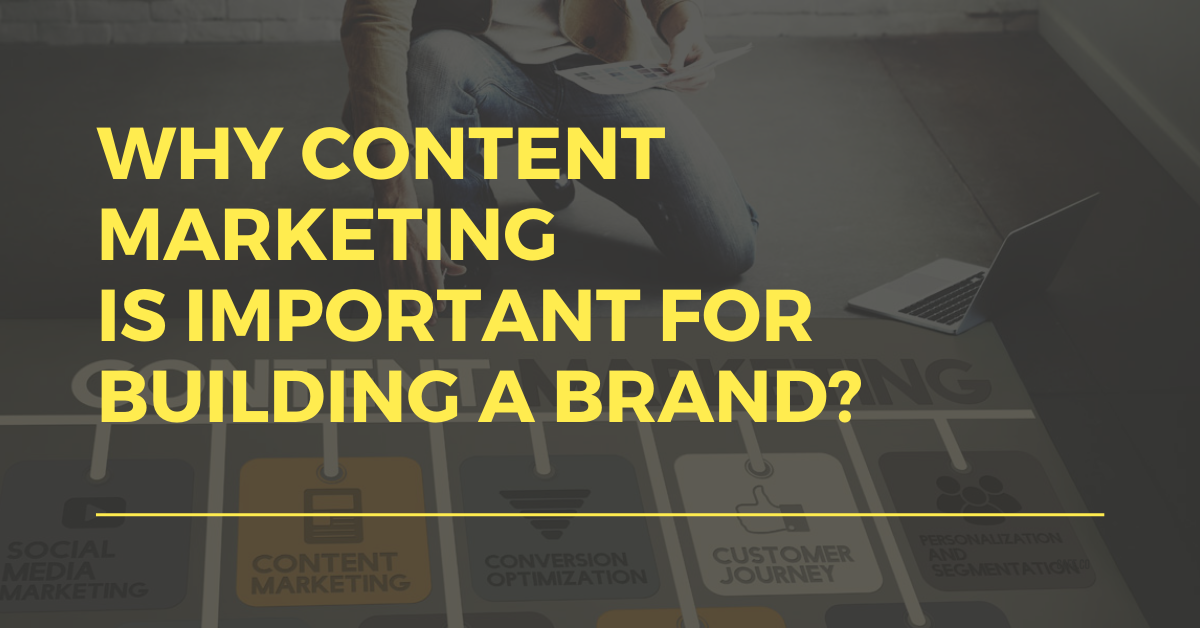 Building a brand overnight is an illusion. Many experts who have tried to do so, have failed miserably.
You have to over prepare for anything that you do and give your 200% as success does not come to those who use shortcuts. Well shortcuts work for short timed campaigns but not in case of branding.
Many a times, people ask can we build up a brand successfully in a short span of time? We can certainly run campaigns and gain success but building a brand is a process and not just an activity.
Trust me, the answer lies in the first word of this paragraph. TRUST! According to a study, 90% of the audiences make up their mind, only by researching for that brand online. So, it all depends on what content you are offering to them. Creating and sharing valuable content with prospects can actually help in converting them into your loyal customers.
Content Marketing is important for building a brand. Needless to say to it is the best strategic approach that you can use in building your brand. The stronger the approach, the better will be its output. Therefore you can keep 3 things in mind while leveraging your unique brand:
1.Building trust and loyalty: You can do so by sharing original and trustworthy content which grabs attention and fuels the process of creating a positive perception of the brand.
2.Practice SEO to enhance visibility: With increasing guidelines and strictness from google, keyword stuffing is no more a good idea. It is advised to use one keyword per 100 words in order to make your content look fresh. Also, to improve SEO, you need to create optimized content. The more content you have online with relevant keywords, the more content will be shown to users in their search results. Building a brand is a process and content marketing is one trustworthy platform to share your process with the consumers and stay relevant to them.
3.Highlight your knowledge expertise: No one knows your child better than you. Content marketing is one of the greatest opportunities for you to showcase your knowledge about the industry. Your content is your voice and the audience will go by the source which has provided the most valuable information to them.
CONTENT MARKETING FOR B2B AND B2C


Why is it important to establish content marketing goals for brand building?
The buyers' journey is nothing more than a series of questions that are answered satisfactorily. Therefore, content marketing is a commitment, not a campaign. The more you keep your content update, the better is your brand persona.
Like any other process goals empower. You need to establish some real time content goals to know whether your brand is standing out in the crowd or is just a part of it. Some standards of measurement like quality, reach, response, etc. should be set so that you can compare your content, reach and response to see what are the areas of improvement.
How to make your Content Strategy powerful to build a brand?
Do not always try to create content through sources. See how the routine activities of your business can serve as content. The choice of your words and the brand voice should be relevant to the audience is it targeting.
The following 5 C's of Content Marketing are powerful for any brand building process:
1) CALIBRATE: You need to sit and think hard about the objectives to wish to accomplish. This helps you to be focused on what outcome you want to achieve and your content revolves around the right path. By vaguely starting a content without putting in thoughts can be misleading and time consuming. Ensure that your content goals are well in line with your brand goals.
2) CREATE: Once you're done calibrating your thoughts work on the content outline. Research on the kind of content your target audience will be interested in getting engaged. After that, you can just keep on flowing.
3) CURATE: Content curation is important as well as difficult step while strategizing for an effective content marketing plan. Organize the best of the content that is mixed up in your mind and from the links you have referred to and build on them with your views, thoughts and examples. Once you hit on the right approach, you will get your story! During the process of content curation, keep focus on the goal and audience. Remember to edit it twice before moving to next step.
4) CIRCULATE: Choose your communication channels wisely. Make sure your content is easy to absorb, access and people can share it as much as possible.
5) CONVERT: This is the reason why you're creating the content in the first place. Monitoring the impact and the action of your audiences can actually give an insight into your content marketing process and also how relevant it is to your branding. Pushing prospects through the sales funnel and getting a good ROI should be the primary goal of content creation.
When you start developing meaningful content for your audiences, you start getting familiar with the recent content marketing trends and strategies which the other marketers are using. The best way of staying ahead of them is to keep following the trend and at the same time be efficient in what you're doing.
As per a study, 90% of the best content marketers actually say that their priority is to provide value to customers over brand promotion. So the question arises, how do we do that? How can we provide them with the most valuable content that they do not struggle to find?
Here comes the 8 most effective content marketing strategies that every marketer needs to follow in order to increase their visibility:
1) Keep a check on the Competitors: Do not skip the competitors while planning to promote your content. It's like already losing half of the battle you have not even started to fight. See what is happening around you and also what impact it is creating among the consumers. Almost all industry experts claim that the search marketing success majorly depends on competitor analysis. When conducted properly, its results help in integrating your content marketing strategy and can significantly work on the loopholes of your marketing process and increase the conversion rate.
2) Focus on the niche: You obviously know that your content will not suit everyone, hence it is very important to segment readers based on their persona. By creating content suitable for different sets you tend to talk to each segment more effectively. For e.g. If you want to create awareness about your brand, this type of content will be suitable for the potential customers and not the existing ones.
3) Focus on thinking factually: Content is not mere words or paragraphs. Content Marketing is a strategy and one need to keep a check on results or manage data on the impact it creates. Report your content marketing tactics. Keep a tactical approach and further customize if required. You never know that you might end up finding a totally different yet more factual outcome through brainstorming and letting your concepts flow without any benchmark.
4) Stay aligned with your core values: You are what you believe in. Your core values define the purpose of your brand. If you want your target audience to believe in you, keep your content in line with your brand persona and how consumer see it. Crafting a relevant content will encourage the readers to engage with your brand and understand you better.
5) Evolve and Refurbish: The willingness to adapt to new changes is the key towards growth. Therefore, evolving with new trends and keep your content up to date. Understand and analyze the current opportunities and be aware of what is happening around you. In order to compete with others, you need to keep focus on the current information and update the old content with time.
6) Target the Local Platforms: A large number of consumers search online before purchasing any local product or service. They often use local keywords which in return leads them to their desired results. Therefore, it is important to use relevant keywords that your readers or consumers regularly use in your locality. For example, if you're a tourism brand, you can target adventure loving audience in your locality using keywords like – offbeat travel destinations, famous places to travel for adventure lovers, travel sites that give you an adrenaline rush etc.
7) Do not compromise with the Content quality: Quality always wins over quantity. And when it comes to promoting your content, good quality information is easier to sell in the market as compared to the content that is lengthy but not planned. Use creative writing tools, have an organized structure, empower your content bytes with correct visuals etc.
8) Build engagement on your platform: The idea of building engagement does not mean getting hundreds and thousands of followers on your social media pages. It should engage the people in reading your content, for that you need to direct them to the right spaces. From there you can convert them to your mailer list and whoosh! You have already won half of the battle! The actual growth of your brand starts from here. Do not lose these subscribers and work hard for converting them as your clients.
Content Marketing for Building a Brand thru Social Media
Everyday more and more people are using content marketing, search engines and social media platforms to socialize on the web, engage and reach out to the audience at large.
If you are trying to build a brand through content marketing, you need to work on social media in a way that all your social spaces drive the target audience to your website.
Content marketing can help you create the perfect pull strategy. It is the process of creating, publishing and promoting custom content for marketing purposes on a regular basis for all the brand spaces that you create.
Brand management through planned content marketing can simplify your brand's promotion and it also helps in increasing customer base in a faster and targeted manner.
For instance, if you are managing a brand that is about customizing diet plans for people according to their medical condition and weight targets.
Just having the diet plans in place is not enough because in this case it is your product. You need to create content that builds trust among the audience, that inspires them to take action and connect with your brand. Also the content needs to be easy to read and absorb.
The content can be informative blogs, listicles, infographics, detailed articles, interesting videos, blogs or even pictures. It needs to be unique and interesting enough to grab people's attention.
As per the audience and purpose you can decide which content can be delivered in either long form or short form. Some experts consider articles that are longer than 700 words should be long-form while others believe that articles have to be in excess of 1,800 words to be considered long-form.
For the sake of argument, let's assume that long-form content refers to articles of around 1,200 words or longer. Any content shorter than this is considered to be a short form. In the context of videos, a video of more than 15 minutes is considered a long form content and anything less than that a short form. There are many arguments as to which form is better to use or might generate more buzz. Ask two content marketers about the opinion on which form of content is more beneficial and you'll get two completely different answers.
Some believe producing longer articles is an excellent way to engage with readers and offer them genuine value and a rewarding experience, while others might disagree. But we say that its completely subjective. The length of your content should be decided on the basis of your audience, their wants and expectations. After all, the motive is to grab their attention and get them hooked on your content.
Now you might wonder if all this content is published on digital platforms then can social media marketing and content marketing be used interchangeably. Well, no.
Let's understand it this way that in traditional content marketing you would put your money into advertising, billboards or newspaper features. There the investment's success has a direct correlation to who comes in and purchases from you.
Now on social or digital platforms, the audience is already present and you just put out free content which will make it quicker and easier to reach out to the audience to know more about your product. On social media platforms you can freely post as regularly as you want and even risk hit and trial methods by posting different forms of content to see which one gets the most engagement in the shortest period of time.
And all this effective and efficient marketing with a lot less or no money spent. So we can say that social media is a massive carrier or supporter of content marketing for the purpose of building a brand.
Before you start publishing your content be aware of certain digital marketing tips to make sure your content doesn't get lost in the deepest pit of the digital world. In order to rank high in the search engines your content needs to be search engine optimized with proper search tags and keywords. After you create your optimized content and publish it on your website and other popular sites, people would find your content easily and more frequently.
Keep updating your website with regular quality content to make sure your visitors keep coming back and stay longer on your page. Follow the content marketing rules and patters to engage with your audience.
This helps in building a strong subscriber base for your brand. Share your content link on various social media platforms to get more visitors to your site. This would result in even more traffic, link popularity and higher search engine ranks. All this will ultimately result in increased conversion rate and more business for you.
Some universal content marketing tips for social media.
How can social media engagement be measured? Some measures of audience engagement on your
social media page include:
1. Likes
2. Follows
3. Shares
4. Comments
5. Retweets
6. Click-through
These metrics are crucial for measuring the effectiveness of your social media campaign and accomplishing goals such as generating leads and sales. Now the question is how can you strategize your social media campaigns and posts to ensure an increase in engagement? Here are few tips:
Headlines- Make sure to keep your headline of an appropriate length (generally should be around 5-7 words), add some adjectives like "effortlessly", "easiest", "hassle-free", etc. to get attention. Then you can solve some mystery by adding phrases like, "shocking reveal", "you wouldn't believe", etc. to generate curiosity. But remember that a quality content is still the key to retaining your audience. You can't just put stuff in the heading that has nothing to do with your content. It has to be powerful and intriguing.
Consistency- Post consistently and multiple times a day- ideally, 5 times a day. Also if you have only enough content to post once or twice a day, that's fine. But you can post relevant photos, re-share status update, conduct a quiz, ask a recommendation etc. to increase your social media engagement.
Visuals– Posts with attractive visuals usually see five times more engagement than those with no visuals. You can make your post visually attractive by using infographics, including short videos, photos, GIFs or memes.
Engagement– Be reactive and engage proactively with your audience – ask questions, reply to their comments and concerns, direct tags of your business and messages.
Trend– Stay topical and curate content in context of the trending events going on in the world. For example, during this time of COVID 19 pandemic, one can post about concerns regarding the outbreak, contributions or measures adopted by a brand, or just a message saying you pray for everyone's health and welfare during these tough times.
Relationship– Establish a relationship with your audience. Don't go directly for hardcore selling just as you begin with social media marketing. You need to first of all establish your brand and its credibility.
Popular Content Marketing Tools that help in Building a Brand
Buffer: This content marketing tool is specially designed to help you schedule all your posts on social media platforms like Facebook, Twitter, and Instagram very conveniently and also ensures the timings as to when it will be most likely seen by the target audience. Write a normal post and just schedule it. Rest leave it to this tool. It has a great understanding of managing multiple social media platforms very efficiently and is very easy to use.
But it is always recommended to create copies separately as per the social channel.
Tailwind: This tool is very efficient in managing your daily posts in case you are using Instagram and Pinterest as your social media platforms. It is a very useful app as it saves time by scheduling the content that you create and automatically upload it when the users are more active and can engage better. It also has an analytics feature which tells you about what content is working in your favor and what needs to be updated or removed.
Social Blade: This is a tool that allows you to keep an eye on your competitor's channel growth and lets you analyze where you stand in comparison to it. This is specially designed for YouTube and Instagram which has the ability to keep a real time subscriber count and collects relevant statistics over a short period of time. It also keeps a track on the different marketing strategies that the competitors use and how their graph is progressing on the social spaces.
ShareThis: Talking about this tool, ShareThis offers an easy way to fetch you more interaction for the target audience. These are in the form of likes and shares. You can easily get social buttons with your content and can also be easily customized. This tool is designed to offer good language support and is feasible for any screen size.
Clearscope: Clearscope is the best tool in case you want to optimize your content. It helps you get a list of all the trending keywords that you can definitely use in your content to increase its visibility and interaction. Once you have created your content, you just need to copy and paste it here. This tool will see the words or phrases that are trending but are missing in your content. You can then add them and boost up your results.
If you want to build a strong brand using content marketing, feel free to email us.