The Content Strategy for your Brand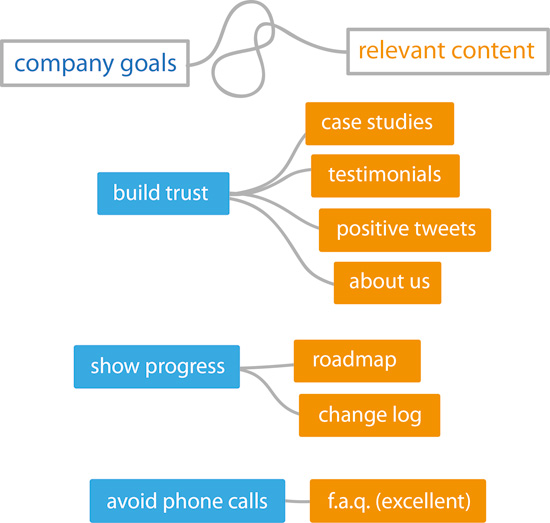 Content though underestimated holds a great importance for your brand building and its online reputation. With the digital marketing becoming significant and the increasing number of consumers online – brands are realizing it is important to have a strong online presence.
Just reaching to the World Wide Web through a website is not enough anymore. What you need to do is to create an engaging space for the consumers who reach there looking for the relevant product/services. Gone are the days when a website & an email account were sufficient to connect the internet.
Now consistency is not enough, the only brands which are working right and becoming better with time are those which are innovating – in service as well as in connections, in reach.   Most of the bigger brands stick because they start innovating, offering add-on to the service umbrella and keep coming to the consumers with a newer approach every time. They do it because they know it is important to keep the content evolving. That can only happen if your brand is evolving and both these phenomenon work vice-a-versa.
Keep Focus
Content can be generated. You can hire content writers, talk about your projects, clients, experiences – all these are the easy ways of content development. Also you can write about the competition, the market scenario, the market trends and changing consumer preferences.
While all of the above would help you in learning, you need to maintain focus. Focus on what is the purpose of this content. Are you trying to create a portfolio, an identity online which speaks for itself like a Business Development pitch. If that is the case, you need to check your content. Keep Focus – if the idea is to share information, you can all the above but if the focus is lead generation – focus on solutions. Are you offering a content which signals – your signature services? Does it depict that you could be a choice for a certain specific service?
All these answers should come from the content.  So, keep focus and maintain that the content takes care of the rest.
Make it Relevant
Relevance is another significant content strategy. Idea should not be have ample of contents and keep it updated. You have to make sure it is relevant to your target customers and it builds engagement. It must strike the right chords else the people will get bored and chances are they will drift away.
Relevance & Truth are the forever classic mantras of reaching out the customer and to create a place in their minds amid-st the competition. If it is relevant – they will stick to it.
Offer Solutions
Be it an offline meeting or an online profile – you will be remembered and preferred if you offer solutions.  Imagine you go for a business pitch, understand the requirements and offer them solutions which are based on facts and experience and not merely – theory! You chances to win the client increase multi-fold.
The same goes with your online content. If it talks about solutions and how they have brought difference to an existing brand/business – it will certainly click the new customers or prospects.
A Solution specific approach also means you value time & money. Since you do not go with intent to have a chain of meetings and the entire chain of proposals and negotiations, a serious client who values time will prefer you. This is also good for your brand health.
Keep it Social
One more important content strategy is – to keep it social. This we can say is to avoid the 'all work-no play' situation. It is good to keep focus but sometimes there has to be pinch of salt & pepper. After all, we are all human and we all like to try out some new flavors time & again.
And even this is possible without shifting the focus. A smart content developer will know how to make it relevant to your brand and to the society at large. S/he would make sure, not to lose the focus and still create engagement with the customers with an element of your own brand in the message.
A social approach in content is necessary to have a good brand image, to instill credibility and above all it fosters positive brand recall.
So now, if you are managing the content for your brand, keep note of the above and make an attempt to reach out. Create a Connect first and then build a Brand.
Now you know what to do to create relevant content for your brand but that's not it you need to make sure your content keeps its reach.
Research
It requires a lot of preparation to understand your audience and to build a community. There's no point producing content before you have a firm handle on what the target audience wants.
Rotation
Keep a variety in your content, it really gives you an insight of what people are really looking for and keeps them active. Content should be rotated based on the research.
Recurrence
Make sure your older content never gets archived cause it it's archived, it's dead keep renewing your best read articles so that the new visitors could always go through them. The secret behind it is the best read content on the site is never new. Find a way to highlight your archive material. Link your new articles to the relevant content existing in the older ones.
Readability
Websites must work hard to make sure their content is loud and clear, getting the attention right away.
Take a look at your research, who is the reader and focus on the style they would appreciate more and can get their attention easily. A common problem online is sites that are too cluttered and difficult to read, sometimes posts and images are poorly arranged not creating an impressive impact on the reader.
Recall
Brand strongly yourself by constantly writing about your site. Find means to feature yourself in other sites and blogs which would give you recognition only a few actually remember where they read something about you so make sure you don't shy away from making people recall you. Tell people who you are, tell them what you're here for, tell them what you are delivering.